Admission
Schedule:

Saturday-Sunday

Time:

08:30 - 12:00 & 13:00 - 17:30

Discounted Fee:

18.597.600 VND
---
The fee includes: (1) 8% VAT; (2) Participant learning kit;
The discounted fee will be available to registrations and payments received on or before 07 days.
Today's leadership crisis
Organizations and leaders have been facing four chronic problems:
Trust in leaders at historic lows: Just when the payoff for trust was never higher, we have wary customers, hesitant partners, a cynical public, and suspicious employees.
The inadequacy of communicating vision to all levels: Leaders may have a strategic vision for their organization, but they are not fully aware of the significance of communicating clearly that vision to all levels and make no efforts to inspire their employees to live with the vision and proactively set their goals aligned with the organizational vision
Strategic uncertainty: Challenges that once took years to materialize now arise overnight; competitive advantages vanish, governments vie for capital and talent; and hyper-paced technological change means that someone on the other side of the world just turned your business on its head.
The war for talent: Just when the right idea can change an industry, knowledge and creativity are at a premium - and totally mobile. People no longer satisfied with just showing up want to make a difference. The best people hire their employers, not the other way around. And the contribution they can make is more motivating than their paycheck.
OUR SOLUTIONS
With an in-depth understanding, FranklinCovey has studied and developed a special training solution which helps to enhance greatness, competencies for leaders in order to lead themselves and the teams overcome today's challenges toward outstanding. This program is called The 4 Essential Roles of Leadership.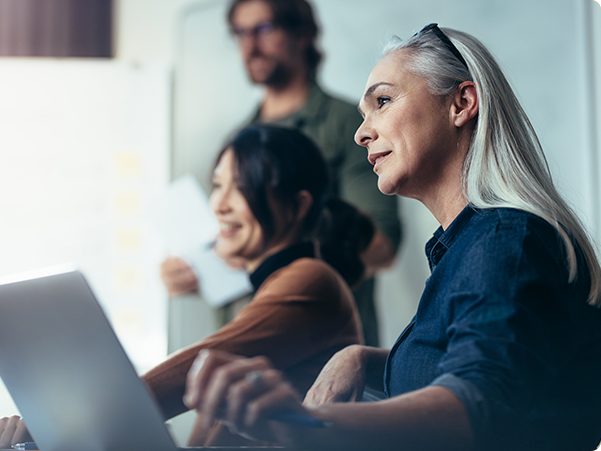 Meet The 4 Essential Roles Of Leadership
Even in the most turbulent times, there are four roles leaders play that are highly predictive of success. We call them essential, because as leaders consciously lead themselves and their teams in alignment with these roles, they lay the foundation for effective leadership.
The 4 Essential Roles are:
Inspire Trust
Be the credible leader others choose to follow - one with both character and competence.
Trust starts with a leader's own character and competence—the credibility that allows leaders to intentionally build a culture of trust.
Create Vision
Clearly define where your team is going and how they are going to get there.
Effective leaders create a shared vision and strategy and communicate it so powerfully that others join them on the journey.
Execute Strategy
Consistently achieve results with and through others using disciplined processes.
Leaders must not only think big, but also execute their vision and strategy all the way through to completion with and through others.
Coach Potential
Unleash the ability of each person on your team to improve performance, solve problems, and grow their careers.
Effective leaders develop the leadership potential in others and improve performance through consistent feedback and coaching.
Course Details
Participant Kit
360 or Self-Assessment
Participant Workbook
Implementation Plan
Leadership cards
Who should attend?
The program is designed for leaders who aspire to:
Help people understand their roles and believe in what they do.

Think BIG and adapt quickly.

Translate strategy into meaningful work.

Coach people to a higher performance.
Delivery Options
Public Workshop: A special learning experience for individuals or groups which comes from different companies. Workshops are offered on a fixed schedule and a suitable location by FranklinCovey Vietnam.

In-house Workshop: Providing training for each organization based on FranklinCovey's standard program (Standard Program). Or providing tailored trainings based on the needs of your organization or department (Customized Program).

Duration & Language: 2-day work sessions and 6-month application process. Language: English or Vietnamese.
Training & Learning Process
Prepare & Assessment
(before the course)
Self- Assessment
This preparation will give participants the opportunity to have a deep reflection about their current leadership ability from a multi-dimensional assessment of specific aspects as well as prepare ideas to join the course more effectively. Preparation will include:
Prework
360 or Self-Assessment
Learn & Practice
(in 02 days)
Leadership workshop
02 days of intensive learning will help participants learn The 4 Essential Roles Model, based on the outstanding ideas of the world's leading management thinkers on leadership development through world-class videos capturing several best-practices of leaders around the world.
Apply
(after the course)
Implementation Plan
Leadership Reassessment
In order to "live" with the knowledge acquired during the two days of intensive study, participants will dive in the practical phase of the "Implementation Plan" to apply the program's mindset, tools, etc. into leadership practice, through suggestions, guide of establishing action, plans and implementation of essential roles in a real work environment.
Participants will attend the Leadership Reassessment 6 months after the training program. This assessment will allow participants to remeasure their leadership development level after applying the mindsets, tools and skills… learned & practiced as well as help participants continue to improve their leadership capacity.